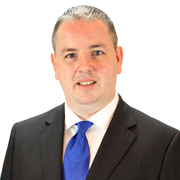 Brendan Ferron is a Sinn Féin Councillor in Tallaght Central alongside Cllr. Maire Devine.
Brendan Ferron is 40 years old, he is originally from St Dominick's Avenue, however he moved to Ballycragh at the age of 15. He was educated at St Dominick's Boys National School and Tallaght Community School.
In 2001 Brendan graduated from the Institute of Technology Tallaght with a First Class Honours Degree in Business Administration. Brendan is a former Student Union President of the Institute as well as a previous serving member of the Governing Authority and Academic Council of the college.
Since graduating Brendan has worked in various accounting roles and is currently employed in the accounting department of a company based in Dublin City.
Brendan joined Sinn Féin in 2002 and was the parties' candidate in the 2004 local elections in Tallaght South receiving just over 1,400 votes. He has been a committed political activist since joining Sinn Féin and has been at the forefront of the Sinn Féin campaign in the constituency opposing the introduction of the property tax as well as the campaign against the introduction of water charges.
Brendan has also been active in Sinn Féin's national campaigns opposing the current government's austerity policies, which are causing great damage to communities in Tallaght Central.
Contact Details:
Phone: 087 1956087
E-Mail: bferron@cllrs.sdublincoco.ie