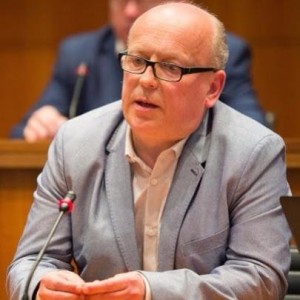 Enda Fanning is the Sinn Féin Councillor for Templeogue – Terenure. Enda is an architect, having qualified from University College Dublin. He practised architecture in Rathfarnham Village for over fifteen years, and was recently elected as a Fellow of the Architect's Institute, the RIAI.
Most recently Enda has worked with Lynn Boylan MEP on many local and European issues. One of their important ongoing campaigns is to see the release of Firhouse constituent Ibrahim Halawa who is wrongly imprisoned in an Egyptian prison.
Enda has an interest in charitable work and previously worked in a voluntary capacity with Dublin Simon, the homeless charity, for about five years. He coordinated and took part in the Friday Soupruns across Dublin city every Friday night.
He also assisted in the design of a Family Centre in Mazabuka, Zambia which helped families of children orphaned by AIDS. This was another charity project based in Rathfarnham with the design and fundraising work based there.
Enda intends bringing his previous experiences as an architect, a charity worker and political advisor to his role as a councillor. He is acutely aware of the many issues facing society today and is determined to use his role as councillor to contribute positively to resolving those issues.
Contact Details:
Phone: 0872561524
E-Mail: efanning@cllrs.sdublincoco.ie