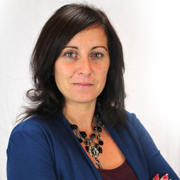 Louise Dunne is a Sinn Féin Councillor for Tallaght South alongside Cllr. Cathal King, and a Brookfield resident.  Louise holds a University College Diploma in Drug Counselling and is currently in her last year of a BA Degree in Leadership & Community Development.
She works locally as an assistant coordinator in a Local Training Initiative and has also worked and volunteered in a diverse range of Community Organisations and services targeting disadvantaged individuals, families and their children.
Louise is well aware of the difficulties communities face and she is determined to work with her community to challenge the deeply embedded inequalities that most families have to endure.
Louise understands the importance of having a voice and is privileged to run in next year's local elections as a Sinn Fein Candidate, as she believes that Sinn Fein are the only real party who are honestly representing our working class communities.
Given this opportunity, she intends to actively engage with her community to participate and influence the decisions that severely affect and impact on their lives. She believes that together they can challenge the discrimination, inequality and the social injustice that oppresses the people in her communities.
Contact Details:
Phone: 085 7859177
E-Mail: ldunne@cllrs.sdublincoco.ie