Dublin South West Sinn Féin TD, Seán Crowe, has called on Lloyds Pharmacy to respect the findings of the Labour Court and implement its decision regarding union recognition for 190 workers employed at the company.
Deputy Seán Crowe said:
"The current dispute between Mandate trade union and Lloyds Pharmacy is about pay and work conditions, sick pay, zero hour contracts and union recognition.

"The Irish Labour Court recently said that Lloyds should recognise Mandate as the trade union who represents over 190 workers at the company.

"Lloyds Pharmacy for whatever reasons refuses to do so.

"The company currently holds contracts with the Health Service Executive (HSE) – a public state body – all the while refusing to acknowledge the Irish Labour Court – another public state body.

"All too often this is the case with a small minority of Irish company's.

"Many of these same companies will actively seek out and receive state contracts while refusing to engage with the state's industrial relations mechanism. They will also use to maximum any legislation that curtails the rights of workers to industrial action

"This cherry-picking of rights and responsibilities cannot be allowed to continue.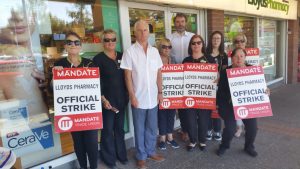 "Sinn Féin stands with Mandate and its members in Lloyds Pharmacy in their fight for decent pay, improved conditions of employment and trade union recognition.

"Industrial disputes like those at Lloyds Pharmacy shows that we need to prioritise legislation to allow trade unions to represent their members in formal procedures and underpinned by access to the full plethora of legal rights and entitlements.

"In the meantime I am publicly calling on Lloyds Pharmacy management to engage with and recognise the Mandate Trade Union, a decision recommended by the Labour Court."
ENDS