Sinn Féin's spokesperson on Foreign Affairs, Seán Crowe TD, has reiterated his call for Ibrahim Halawa's release from prison, on the 3rd Anniversary of his arrest and imprisonment.
Deputy Seán Crowe said:
"Today actually marks the 3rd Anniversary of Ibrahim Halawa's arrest and incarceration in Egypt.

"Just 17 years of age when he was arrested, he is now being tried as an adult.

"He has outlined in detail the ill-treatment that he and many others have faced, and the appalling prison conditions he has had to endure over the last 3 years.

"He was not charged for over a year after his arrest, is now part of a sham mass trail, and he has no real hope of ever receiving a fair trial.

"His trial has now been postponed an incredible 14 times.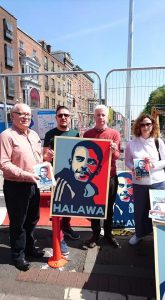 "I welcome that the Irish Government has recently adopted a different approach and is now supporting an application for a Presidential Decree under Law 140 on Ibrahim's behalf.

"There is a small window of opportunity between now and Ibrahim's next trail date, Sunday 2 October, for maximum diplomatic pressure from An Taoiseach to be exerted on the Egyptian President el-Sisi.

"On this 3rd Anniversary of Ibrahim's imprisonment, I am again calling on the Egyptian Government to immediately release Ibrahim and to allow him to return to his family and loved ones in Dublin."
ENDS