Dublin South West TD, Seán Crowe, has stated that the Child and Adolescent Mental Health Services (CAMHS) in the country are at crisis point. The Sinn Féin TD is a member of the Oireachtas Committee on the Future of Mental Health Care and he was speaking after the launch of the Committee's report on Mental Health Services.
Crowe said the problems were causing a national emergency and it is having tragic outcomes for many young people and their families.
Teachta Seán Crowe said:
"TDs from all parties and none have been saying to the Minister and his Department that CAMHS is simply not meeting the needs of young people who are often in very desperate circumstances and need immediate care.

"There are 2,603 children and adolescents waiting for an appointment with a child and adolescent Mental Health Team, who treat vulnerable children in Ireland with moderate to severe mental health problems. 1,322 have been waiting more than 3 months.

"This is unacceptable and due in large part to a failure to recruit and retain the staff needed to fully operate a CAMHS team. At present, and for quite some time now, around half of the positions in CAMHS teams across the country are vacant.

"This means that, in many cases, no consultant psychiatrist to assess new presentations or no clinical psychologist to support that assessment. There are also gaps across the teams in widely different, but essential, disciplines.

"Last week I took part in the launch of the interim report of the Committee on the Future of Mental Health Care. The report included 31 new proposals to improve recruitment such as a pay review, subsidised housing, and allowing doctors from other jurisdictions to take up posts.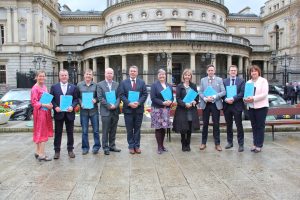 "No new measure should be too big or costly when young people are dying through lack of basic care. Since coming on the Committee I have been outlining, as a backdrop to each meeting, the shocking reality of suicides in Dublin South West which are no doubt being silently reflected in other areas around the country.

"We also need to see greater moves towards 24/7 services and the development of an 18-24 year old transitional CAMHS service so that no one in need of care or currently receiving care should be slipping through the cracks due to their age.

"If we are to build a truly inclusive society then we need to start treating young people, their families, and the staff charged with caring for them a lot better. The recommendations of the Committee's report on Mental Health are sensible and transformative in nature. They need to be fully implemented. "
ENDS