Dublin South West Sinn Féin TD, Seán Crowe, raised the severe lack of capacity in the haemodialysis unit in Tallaght Hospital, in the Dáil, and said an explanation is needed into why plans for new unit were pulled.
Deputy Seán Crowe said:
"Tallaght Hospital is the regional centre of excellence for the Dublin Midlands hospital group and provides regional services such as 24-hour acute kidney dialysis care and home dialysis therapies. However the crux of the problem is that the dialysis unit in Tallaght has insufficient capacity to meet requirements, and in my opinion it is not compliant with the Department of Health's own regulations.  There is also a critical shortage of capacity to deliver high dependency dialysis in the region.

"Dialysis activity at Tallaght Hospital has increased to more than 30,000 dialysis treatments per year. However it only has a designed capacity for 9,000 treatments a year. The remainder were delivered in satellite dialysis units.  This is private, costly and represents an unacceptable clinical risk to patients.

"I asked the Minister for Health how much we were paying for these private dialysis services and I was told that it cost over €4 million in 2017.  That does not include the added transport costs for dialysis patients, which was an extra €1.2 million.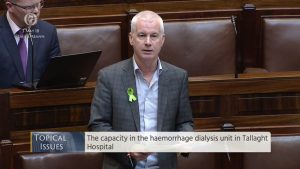 "The heart of the matter is that there was an agreement to go ahead with a new unit.  It was agreed in 2017 and then inexplicably cancelled in January 2018.  The failure to build it is impacting on patients, health care costs, and the hard pressed staff within the hospital.

"I cannot understand why the project has not gone ahead.  We need answers.  The space is there and it is ready to go.  I talked to the local authority officials and there are no difficulties with planning permission.  It is up to the HSE and, more importantly, the Minister to explain why the project has not gone ahead and when it actually will.

"The staff are doing fantastic and lifesaving work, but it is clear that the original unit has seen its day.  I am also extremely concerned about cross-infection.  If the unit is not compliant with Department of Health's own infection guidelines, then there is a responsibility on them to authorise the building of a new unit. It is absolute madness that the current system is squandering scarce money on private services when an alternative could be available within the public health system."
ENDS